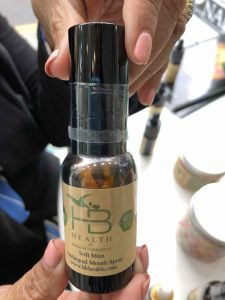 HB Health are excited and pleased to announce the launch of new CBD oil products at our Knightsbridge clinic for clients old and new to enjoy.
The HB Health-branded range of exclusive CBD oil products are now available, making us the first CBD Wellness Clinic in central London.
These new CBD GM-free oil products are suitable for young and old, and can improve general wellbeing as well as treating some beauty or skin conditions.
The CBD is grown in Colorado and Europe, strictly to a non-psychoactive blend, with low (or no) THC present, and extracted from Industrial Hemp.
The exclusive HB Health CBD oil range of products have been triple-filtered to meet the highest 'Golden CBD' standard, to provide maximum benefit.
The team of therapists at our Knightsbridge aesthetic clinic are now fully-trained to offer clients a HB Health CBD Wellness Programme of CBD exfoliation scrub, followed by the application of specially-developed CBD oil products, including:
CBD Face & Body Exfoliator
This exclusive Face and Body exfoliating product comes in a 150ml pot, containing 20ml of Gold Standard Cannabinoids. It is designed to provide a superior level of skin exfoliation, as well as soothing tired skin pores as a pre-treatment for our other HB-branded CBD oil products.
CBD Face Mask containing Wild Orange & Bergamot
This new facial twin-pack product comes in a 150ml size, and contains 20mg of CBD with 10mg in each face mask. It contains European Gold standard cannabinoid oil, with essential oils of Wild Orange and Bergamot.
CBD Skin Cream & Moisturiser
This CBD Skin Cream & Moisturiser is the best organic and GM-free CBD oil available, blended with organic GM-free essential oils to produce an amazing result to the skin. Each 50ml pot contains 200mg of CBD.
CBD Muscle Massage
This new Muscle Massage CBD product comes in a 30ml bottle spray and contains 200mg CBD. It also contains natural herbs, hemp oil and essence of camomile, to provide a relaxing and rejuvenating experience for muscles.
Following application of these products, clients can enjoy a Hyperbaric Oxygen Chamber with a CBD Diffuser being activated during the treatment.
These new CBD oil products can be purchased individually as required, and we offer a specialist expert consultation on how to improve and enhance wellbeing through the use of CBD oil-based products from our London clinic.
Clients can also enjoy a CBD coffee whilst visiting the clinic, as well as signing up for exclusive delivery to their door of our associated HB-branded CBD oil products and HB CBD Vegan & Sugar-Free Gummy Bears.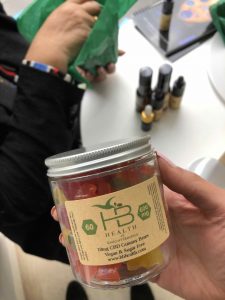 Other CBD oil products have also been specially-developed under the new HB Health CBD range, including CBD Mouth Spray, Vegan CBD in Avocado Oil and CBD Deep Muscle Relief Spray.
These additional oils also come in strengths ranging up to 40% CBD, ensuring that our clients receive the maximum benefit from our new CBD oil products.
Celebrity clients using the new range of HB CBD products have already been hugely positive about the benefits of these superb new body treatments.
Global singing sensation and actress Mica Paris visited the clinic to try the new CBD Muscle Massage product, and commented: "HB Clinic is the best-kept secret in London for keeping up my body maintenance. Heather took it to a whole new level with a CBD facial. My skin felt (and still feels) smooth as silk, two days later."
Regular client Calum Best, an international model and son of footballing legend George Best, also tried one of the new HB CBD treatments, and said: "I take CBD orally to help with recovery and my training, sleeping, and to stay calm. So I thought I would try it at HB Health of Knightsbridge and it was lovely. The mix of Bamboo Scrub and CBD helped me relax and left my skin glowing."
Here's Calum enjoying an Endosphere treatment with CBD oil at his last visit to the clinic: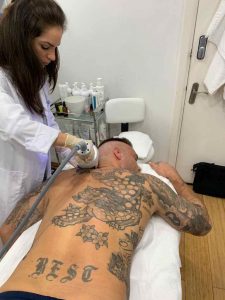 To find out more about the full range of new and exclusive CDB oil products we offer at our Knightsbridge clinic, please get in touch here.