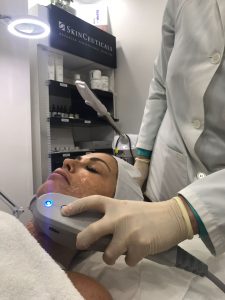 HIFU ultrasonic medical facial treatments in Knightsbridge
One session of HIFU can deliver visible results in terms of lifting and tightening of skin on the face, and clients also see a noticeable improvement in facial contouring and the reduction of fine lines and facial wrinkles.
This treatment is favoured by beauty bloggers around the world, and at our Knightsbridge aesthetic clinic is can be used for the face, body and vagina.
HIFU creates new collagen and can also target individual areas of the face such as brow, jowl and neck lifting. It is an excellent skin tightening and skin rejuvenation treatment, and one of our most popular facial treatments.
Our HIFU facial treatment in central London stimulates natural collagen production, leaves no cuts on the skin, delivers noticeable results with no recovery time. No special preparations are needed prior to a HIFU consultation and treatment at our Knightsbridge aesthetic clinic.
Each HIFU ultrasonic medical facial treatment lasts between 30-60 minutes, depending on the severity of the skin problem being addressed. Some clients report mild levels of skin soreness, which resolves itself naturally.
We recommend that HIFU treatments are carried out every six months, followed by maintenance sessions at three-month intervals for optimal results.
Collagen production reaches maximum level at between two to three months, and during this period clients feel their facial skin becoming softer, more supple, healthier, and younger-looking.
To find out more about our HIFU ultrasonic medical facial treatments in Knightsbridge, please get in touch here today.