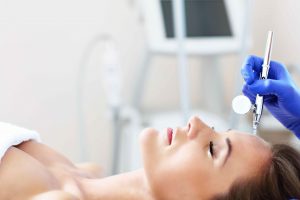 The team at HB Health are really excited to announce that Oxyjet glow treatments are now available at our Knightsbridge aesthetic clinic for our lovely clients.
A hit with celebrities in recent weeks such as Sadie Frost, Elle Macpherson, Katy hill, Laila Rouass and Davinia Taylor, oxygen facial treatments are one of the most popular face treatments to be see in the UK in 2018.
Here at HB Health of Knightsbridge our resident hair and beauty guru Janet Ginnings has devised a new specialised facial treatment – the Oxyjet.
Our unique Oxyjet glow treatments in central London are a new oxygenation treatment using a combination of exfoliation, oxygen and vitamins to regenerate hylonic acid which is very similar to our natural collagen, the skin, and improve circulation.
The new Oxyjet glow treatments are also ideally suited to help treat scar tissue, lessen visible wrinkles, and reduce certain skin pigmentation problems.
The face and declollete are cleansed with Oxyjet products, then exfoliation of the upper epidermis.
Anti-free radical A,C,D and E vitamins and hylonic acid are pushed into the skin by our unique Oxyjet pressure system, which penetrates the basal layer to regenerate the cells. Oxyjet fluid is then sprayed onto the skin to improve blood circulation.
A collagen face mask with calcium B5 is applied to cool and calm the skin, then an aroma oxygen mask is put on to improve metabolic performance.
An additional stage can be added by treating eyes with our Instant Caviar Lift Beauty Tox Patches.
These specialised caviar-collagen patches immediately minimize the appearance of puffiness and wrinkles around the eyes and mouth.
Oxyjet treatments last for approximately 75 minutes and will give clients smoother, firmer, younger-looking skin with a refreshed glow for months.
We recommend a course of weekly treatments for five weeks to see the best results, but a difference will be visible after the first Oxyjet treatment with us.
Please mention this blog when you book in for an Oxyjet treatment to get an exclusive 25% discount on your first treatment with us in Knightsbridge, too.
To see the full range of facial treatments we offer in central London, please get in touch here.