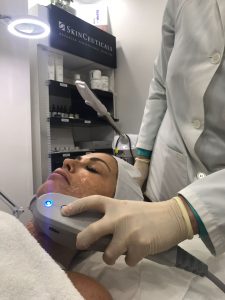 Introducing a treatment favourite of beauty bloggers across the world at HB Health Group is thee HIFU Treatment which can be used for the face, body and vagina.
One session of HIFU for the FACE, will deliver visible effects in lifting and tightening and you will see a noticeable improvement in facial contouring, fine lines and wrinkles. HIFU will also help create new collagen which will help your skin achieve and above all maintain its youthful glow.
HIFU, can also individually target areas of the face i.e., brow, jowl and neck lifting, as well as overall skin tightening and rejuvenation.

The key advantages of this treatment are:
Stimulates natural collagen production
No cuts to the skin
No recovery time
Noticeable results
The Procedure
There are no special preparations needed prior to the HIFU consultation and treatment. the HIFU procedure
Each HIFU treatment lasts between 30 and 60 minutes depending upon the severity of the skin problem.
After Treatment
Some patients have reported mild soreness, which typically resolves itself.
To get the best results, it is advised to have HIFU treatments done for four to six months, followed by maintenance sessions at three to four-month intervals.
Collagen production is expected to reach its optimum level at two to three months. It is during this period that a patient can already their facial skin becoming younger-looking, healthier, softer, and supple.