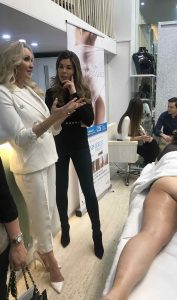 Leading London aesthetic clinic HB Health of Knightsbridge are delighted to now offer new Endosphere treatment from Italy for clients – and we have an amazing offer to celebrate the launch of this incredible body treatment.
Endosphere is a non-invasive body treatment which helps to provide an all-in-one pain-free treatment for fat reduction, body contouring and cellulite reduction, and has been hailed the hottest beauty treatment for 2019 so far.
Having brought Endosphere from Italy to our leading Knightsbridge beauty clinic, it can also be used on the face to reduce wrinkles and contour skin.
This unique body treatment involves micro-spheres that break down, remove and re-shape fat and adipose tissues, whilst at the same time stimulating elastin and collagen production for a more toned, sculpted and uplifted effect.
These results have previously only been possible by using more aggressive, invasive body treatments, making Endosphere a faster and painless option.
The new Endosphere treatment works on the skin using a cylinder attached to a joystick of 55 rotating spheres. The variation of the cylinders' speed determines the frequency, whilst the rotation and pressure have a pump effect on skin tissues, which is variable and different according to each patient.
Endosphere is an effective body treatment that breaks up fat, drains skin tissues, improves skin breathing capacity, and increases skin temperature.
The synergic action of Endosphere treatment have been proven to assist pain relief, body contouring, lympathic drainage, and muscle toning in one simple non-invasive body treatment.
Clients using this body treatment in Italy have noted tighter, firmer, uplifted skin in less than a few courses of Endosphere treatment.
The Endosphere treatment was officially launched last week at HB Health of Knightsbridge in front of a host of beauty influencers, beauty bloggers, media representatives, and even royalty including Princess Von Furstenburg and Princess Constanza Della Torra at our 12 Beauchamp Place HQ.
Any clients mentioning this Blog post when booking an Endosphere treatment at our London beauty clinic will get a 20% discount on their first course.
To find out more about how the amazing new Endosphere treatment works, please visit here.
To see the full range of body treatments we offer in central London, please get in touch here.