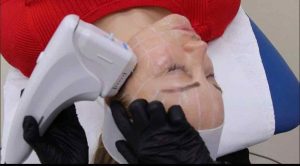 It's that time of year when many of our clients are asking what are the top facial treatments for Spring in central London.
We offer a range of fast and effective facial treatments at our Knightsbridge aesthetic clinic, and clients love the results they see being delivered.
Spring is also a time of year when many clients are looking to get fresh, bright, rejuvenated facial skin after the rigours of harsh Winter weather.
Our most popular recommended facial treatments for Spring are as follows:
HIFU face lifting and tightening
This hugely-popular facial treatment delivers visible effects with noticeable improvements in facial contouring, with reduction of wrinkles and fine lines.
HIFU treatments can target specific areas of the face such as brow, jowl and neck lifting and helps to stimulate natural collagen production immediately.
There are no cuts to the skin, no recovery time is needed, and the facial skin is immediately given a fresh, youthful glow ready for Spring months ahead.
To find out more about our popular HIFU facial treatments, please visit here.
Skin Peels
We offer a range of Skin Peel facial treatments at our Knightsbridge clinic, with the main aim of unifying pores, reducing oil production and improving the texture of facial skin.
A full consultation is conducted before any Skin Peel, to determine the skin type and then offer the best possible Skin Peel facial treatment to provide.
Lasting on average for 45 minutes, our Skin Peel treatments are all delivered with a relaxing application of mask and serums, with no downtime afterwards.
To find out more about our range of Skin Peel treatments, please visit here.
We also provide a leading number of face treatments, including advanced skin treatments, skin lifting and skin tightening procedures, skin rejuvenation and micropigmentation services – please visit here to find out more.
We offer packages for combinations of facial and body treatments, giving clients significant savings on our full range of London aesthetic treatments.
To find out more about the facial treatments we offer in central London, please get in touch here.