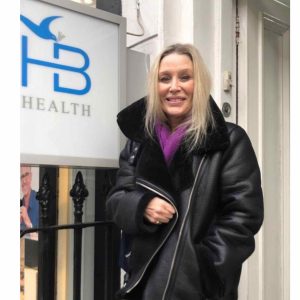 The new HIFU non-surgical facelift treatment at Knightsbridge beauty clinic HB Health has been officially endorsed by beauty guru Angie Best this week.
Having visited our London aesthetic clinic to experience the HIFU anti-ageing treatment for herself, Angie said: "It's what every baby boomer needs to tighten up the jowls and bring new life into the skin. I'm hooked!"
HIFU stands for High Intensity Focused Ultrasound, and is a clinically-proven anti-ageing facial treatment for men and women which utilises ultrasound technology for lifting and tightening the face and neck areas.
HIFU treatment works by stimulating the production of collagen for a natural, younger-looking appearance. HIFU treatment lasts between 30-45 minutes.
As the HIFU ultrasound waves are focused around the facial treatment areas, tiny amounts of energy are transmitted to precise depths beneath the skin. This tiny prickling feeling indicates that the collagen-building process is taking place, and the sensation lasts fort a short while. It is completely non-invasive.
Most clients utilising this new HIFU anti-ageing facelift treatment at our Knightsbridge beauty clinic have reported immediate effects from the treatment. Results can take up to 12 weeks to highlight, but they will continue to improve for around seven months post-treatment.
CEO of HB Health Heather Bird Tchenguez, said: "HIFU is a personal anti-ageing favourite treatment of mine, and a whole host of my A-list clients that visit us from across the globe to experience this ultimate anti-ageing treatment at our Knightsbridge beauty clinic. The HIFU treatment uses ultrasound energy to target deep structural layers of the skin, unlike many laser treatments that only work on the top skin layer."
"By targeting heat at specific depths, the HIFU treatment kickstarts the body's healing response which naturally increases collagen levels in the skin tissues. This leads to a gentle lifting and tightening of the skin, which helps to reduce the signs of ageing for a younger and more refreshed overall appearance."
We are also offering an amazing discount – any client mentioning this Blog post when booking a HIFU anti-ageing non-surgical facelift treatment with us will get a 50% on a full face and neck treatment, at the reduced price of £750.
To find out more about our incredible HIFU non-surgical facelift treatments in Knightsbridge, please visit here.
To see the full range of facial treatments we offer in central London, please get in touch here.
To read more about model and health guru Angie Best, please visit here.